Our Quantum restrictors prevent damage that can occur to a door by limiting its opening to a maximum of 90°, or any pre-set angle. We supply both the SLDR door restrictor, suitable for all the main uPVC profile systems, and the non-eurogroove RS10 model, designed for aluminium doors.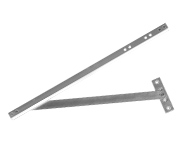 Download Brochure
Quantum SLDR & R10 Door Restrictors
Suitable for the majority of uPVC profiles, our Quantum SLDR door restrictors are easy to fit in the eurogroove. Designed to provide adjustable limitation to the door movement, it allows for a maximum opening aperture of 90°.