1. Trojan Patriot Plus Door Hinge
The first in our top 5 is the Patriot Plus door hinge which has become one of our most popular products. Packaged pre-assembled, the hinge is easy to fit, and packed full of security benefits enabling it to achieve PAS24 as part of a door assembly.
2. Yale Platinum 3* Door Cylinder
The Yale Platinum 3 Star Euro Profile cylinder is a TS007 3 star Kitemarked Anti-Snap security product to provide maximum security against known cylinder attack methods. This 3 Star cylinder allows fabricators to easily achieve requirements for approved Document Q requirements.
3. Trojan TS007 2* Door Handles
The TS007 2* Door Handle from Trojan allows fabricators to fit a lower cost 1* cylinder and still meet the requirements of Document Q. The handle is made from 304 grade stainless steel, and comes with a 25 year anti-corrosion guarantee.
4. UAP+ 1* Door Cylinder
Featuring anti-drill, anti-bump and anti-pick systems, the UAP 6 pin cylinder provides high levels of security to any entrance door, while remaining a competitive solution for fabricators and installers.
5. Hoppe PAS24 Door Handle
This PAS24 high security door handle from Hoppe features a sliding cylinder cover to protect against attacks and ,like the Trojan TS007 handle, allows fabricators to use a 1* cylinder to meet Document Q requirements.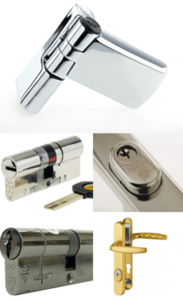 Just outside our Top 5…
The latest addition to our high security range, the TS008 Unicorn letterplate, hasn't quite made our top 5 yet, but with sales steadily rising it's definitely proving popular with our customers. This new letterplate features a protective internal flap to help prevent anyone reaching through to unlock the door, or fishing.  The external flap is made from 304 grade stainless steel, giving ultimate corrosion resistance and making it suitable for use anywhere, including coastal areas.
Find out more about these products –
Yale Platinum 3* Door Cylinder