The rising demand for composite doors has unsurprisingly been met with a rising demand for a diverse range of quality hardware to suit. Total Hardware has always prided themselves on the extensive choice of hardware they offer and have therefore strived to meet the needs of this growing trend.
Door Locks
There are a variety of different locking systems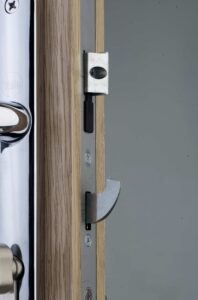 available, including automatic and keyturn locks, however the Yale Lockmaster remains the go to choice for the majority of Total Hardware's customers. The 2 hook latch and deadbolt Lockmaster is available in both 35mm and 45mm backsets, straight or radius ends, along with the option of having a white faceplate. This British made lock is rigorously tested to meet the highest standards and has been Secured by Design accredited.
One of Yale's latest innovations in locking systems which is growing in popularity is the AutoSecure lock. The AutoSecure is an automatic locking system designed to increase security as well as improving ease of use for residents with limited mobility. When the door is closed the hooks will automatically engage eliminating the need to lift the door handle to secure the door.
A growing number of consumers are opting for a more contemporary style of door, which often means they choose a pull handle or cylinder pull rather than the standard lever option. To cater for the growing trend Total Hardware now offer two locks ideal for contemporary doors. The Yale Lockmaster Keyturn has locking points which are thrown and locked by the key. Using the key to throw the lock removes the need for a lever handle to throw the hooks. Another popular option is the GU Secury Automatic, which combines the benefits of both the AutoSecure and Keyturn. The Secury Automatic is an automatic locking system which can be operated with the key to allow it to be used on doors without lever handles.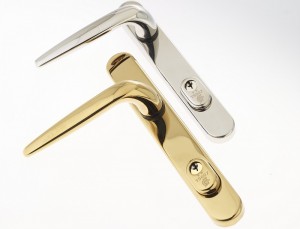 Door Furniture
Composite doors are the premium alternative to PVCu, and therefore many customers request higher quality furniture to suit. One upgrade that has seen a consistent increase in sales is stainless steel hardware. Total Hardware's own Quantum Range has a suited selection of premium stainless steel hardware including letterplates, door handles, knockers and numerals, all manufactured in 304 grade steel for ultimate corrosion resistance.
A further stainless steel upgrade that Total Hardware offers is the Trojan TS007 2 star door handle which not only offers unrivalled corrosion resistance but also heightened security. Fabricators are able to utilise this handle to achieve Document Q with a 1 star cylinder. A different high security option is the Yale 2 star high security cylinder pull, which gives you a combination of style, quality and security.
With the increased demand for contemporary doors the Trojan Elite Range offers an extensive selection of furniture including pull bars, escutcheon's, letterplates and door knobs to help achieve a sleek, modern contemporary look. The entire Elite Range is manufactured in 316 grade stainless steel and comes with a 25 year coating guarantee, giving customers the peace of mind that their door will remain sleek and stylish for many years.
Cylinders
Since the introduction of Document Q in October 2015 there has been a change in attitudes towards the importance of high security cylinders. Standard cylinder sales have inevitably declined and both 1 star and 3 star cylinders are on the rise. To meet this growing demand Total Hardware now stocks a range of 3 star cylinders from GU, UAP and Yale. These cylinders enable fabricators to achieve Document Q without any additional security on the handle or cylinder pull. The 1 star variant is available from both UAP and Yale.
New Hardware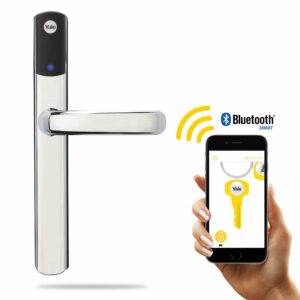 Total Hardware has added the TS008 approved Trojan Unicorn Letterplate which meets the requirement of Document Q. Their patented design offers heightened security whilst still offering a simple and elegant style to compliment any composite door. There will also be the Athena composite hinge available in the next few months – another new, innovative product.
Also recently added to the product portfolio is the Yale Conexis L1 Smart Lock, the latest innovation in smart living door hardware technology. The Conexis allows you to keep control of your home's security through your phone, and removes the need for keys. Yale's previous keyfree and keyless door locks were popular features for composite doors and the Conexis will be no exception. With its combination of futuristic design and traditional lever handle it's sure to be a must have for many customers.
Total Hardware believe the quality and choice of hardware is paramount when fabricators choose their suppliers and with a service equally as impressive. We look forward to hearing from you to discuss your hardware requirements.